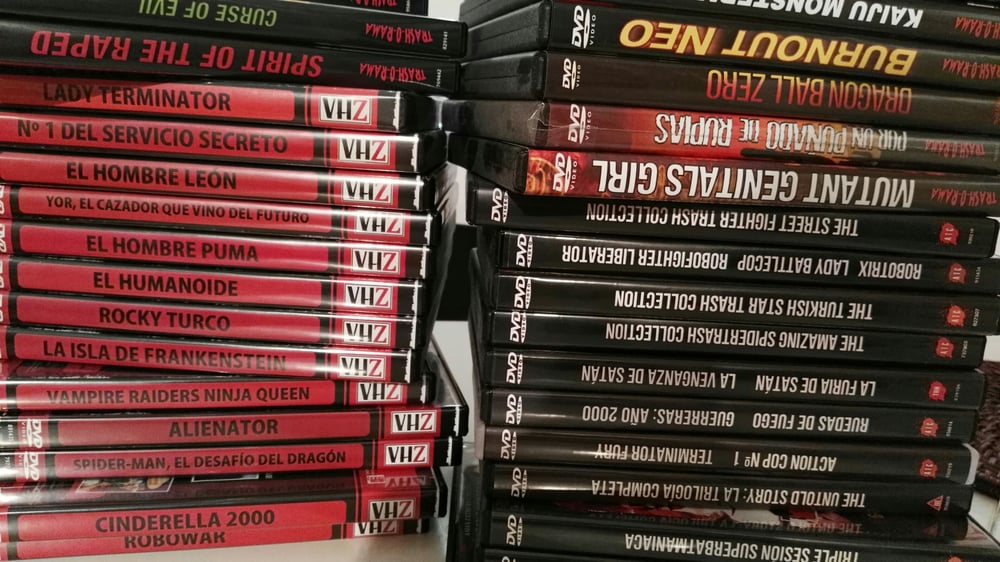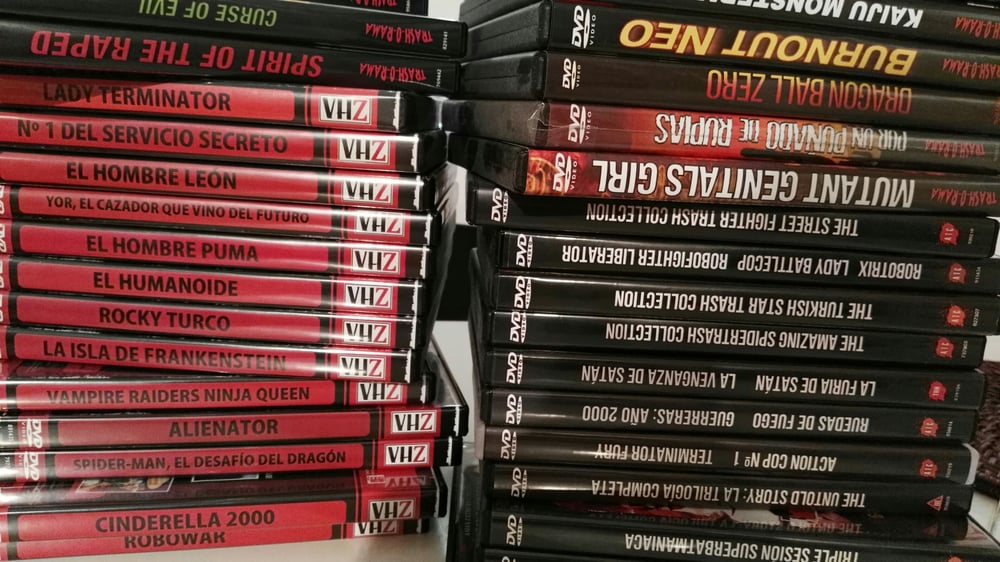 OFERTA AGOSTO TÍTULOS DESCATALOGADOS
€12.00
Oferta válida hasta el 1 de septiembre de 2018.
Durante el mes de agosto puedes pedir aquellos títulos Trash-o-Rama que te falten para completar tu colección. Fíjate en el listado si son de 1 DVD o de 2 DVD e incluye los títulos en el momento de hacer tu pedido teniendo en cuenta las opciones (12E un dvd o 12E las ediciones de 2 discos).
Los pedidos se enviarán durante el mes de septiembre.
01 Devil Fetus + Devil Fetus 2:The Rape After (ATC) 2DVD
02 The Amazing Spidertrash Collection (ATC) 2DVD
03 Alien Violator + Alien Urotsukidoji (ATC) 1DVD
04 Ebola Syndrome + Préstamo Sangriento (ATC) 2DVD
05 Dragon Ball Zero (PRE) 1DVD
06 La Furia de Satán + La Venganza de Satán (ATC) 2DVD
07 The Turkish Star Wars Collection (ATC) 2DVD
08 Eternal Evil of Asia + Blue Jeans Monster (ATC) 2DVD
09 Devil Dead + Bollywood Evil Dead (ATC) 2DVD
10 Future Cops + Korean Street Fighter (ATC) 2DVD
11 Exorcista Turco + Exorcismo Infernal (ATC) 2DVD
12 Por un Puñado de Rupias (PRE) 1DVD
13 Mutant Genitals Girls (PRE) 1DVD
14 El Hombre Puma (VHZ) 1DVD
14B Ruedas de Fuego + Guerreras Año 2000 (ATC) 2DVD
15 Lady Terminator (VHZ) 1DVD
16 El Humanoide (VHZ) 1DVD
17 Nº 1 del Servicio Secreto (VHZ) 1DVD
18 Trilogía The Untold Story (ATC) 2DVD
19 Action nº 1 + Terminator Fury (ATC) 2DVD
20 Rocky Turco (VHZ) 1DVD
21 Triple Sesión Superbatmaniaca (ATC) 2DVD
22 La Isla de Frankenstein (VHZ) 1DVD
23 El Hombre León (VHZ) 2DVD
24 Yor, el Cazador que vino del Futuro (VHZ) 2DVD
25 Burnout Neo (PRE) 1DVD
26 Los Supercamorristas contra los Fantasmas (PRE) 1DVD
27 City of Darkness (PRE) 1DVD
28 Vampire Raiders Ninja Queen (VHZ) 1DVD
29 Queen Kong + King Dong (VHZ) 1DVD
30 The Witch of Flying Head + Mystics in Bali (ATC) 2DVD
30B Star Crash 2 (VHZ) 1DVD
31 Mission of Fire Dragon (PRE) 1DVD
32 Kaiju Monstermash (PRE) 1DVD
33 Golimar the Movie (PRE) 1DVD
34 Robotrix + Lady Battlecop (ATC) 2DVD
35 Alienator (VHZ) 1DVD
36 Princess Madam (PRE) 1DVD
37 BCN Knockout (PRE) 1DVD
38 Wonder Lady contra los Monstruos del Terror + Darna (ATC) 2DVD
39 Spiderman, el Desafío del Dragón (VHZ) 1DVD
40 Sailor Cats (PRE) 1DVD
41B Robowar (VHZ) 1DVD
41 Curse of Evil (PRE) 1DVD
42 Spirit of the Raped (PRE) 1DVD
42B Cinderella 2000 (VHZ) 1DVD
43 Revenge of the Corpse (PRE) 1DVD
44 Supermario vs Son Goku (PRE) 1DVD
45 Los Invasores del Abismo (VHZ) 1DVD
46 T.T. El Extraterrestre (PRE) 1DVD
El pack Heroic Bloodshed no se incluye en la promoción.